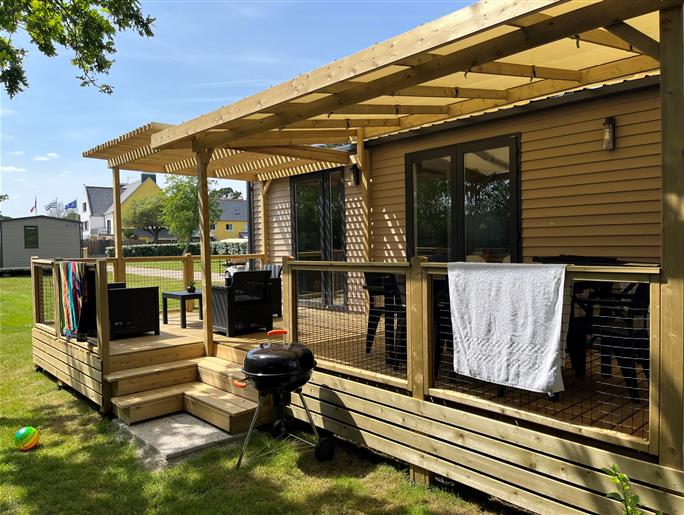 Located in "the small field", the new PREMIUM area guarantees peace and comfort for your next holiday in Fouesnant with family or friends.
A little background information : The lane where the PREMIUM cottages are located was named "the small field" around 30 years ago. At the time, it was an undeveloped area mown naturally by sheep.
When the campsite expanded and took advantage of this available surface area, the campsite's long-standing customers decided to give it the name of "small field".
The premium area comprises eleven premium mobile homes (including one with a private jacuzzi). It is exclusively pedestrianised. This little corner of the campsite is a haven of tranquillity. You'll find yourself surrounded by peace and quiet.
Another premium mobile home is located in a residential area (this one has a private jacuzzi).
Each cottage in the premium area is brand new in 2023 or 2024, with a fully-equipped kitchen including a large fridge/freezer, hob, dishwasher, microwave and coffee machine. The Cottages all have a bright and friendly living room with a flat-screen TV. Finally, the bathrooms are spacious, with an XL shower and a heated towel rail.
The tastefully furnished bedrooms offer comfortable beds (large double bed 160x200) so you can unwind after a busy day.
But that's not all ! The PREMIUM area also has a private covered or semi-covered terrace, ideal for relaxing in the Breton sunshine.
Some of our cottages have a terrace called "Garden side", where you enter your cottage on the north side and the terrace is on the south side. To be discovered without moderation!
All the cottages have a charcoal barbecue, so you can enjoy a delicious evening meal on your way back from the beach!